Display Tent & Event Marketing:
Now that event season is upon us, every business needs to market and portray their businesses as professionally as possible. These special offers will help you do just that!
Please review the images and Special Presentation pdf below where you will find some Very Special offers. If you've been thinking of upgrading your marketing tent and/or marketing materials… NOW is the time.
CLICK on the flyer below to download and print the pdf.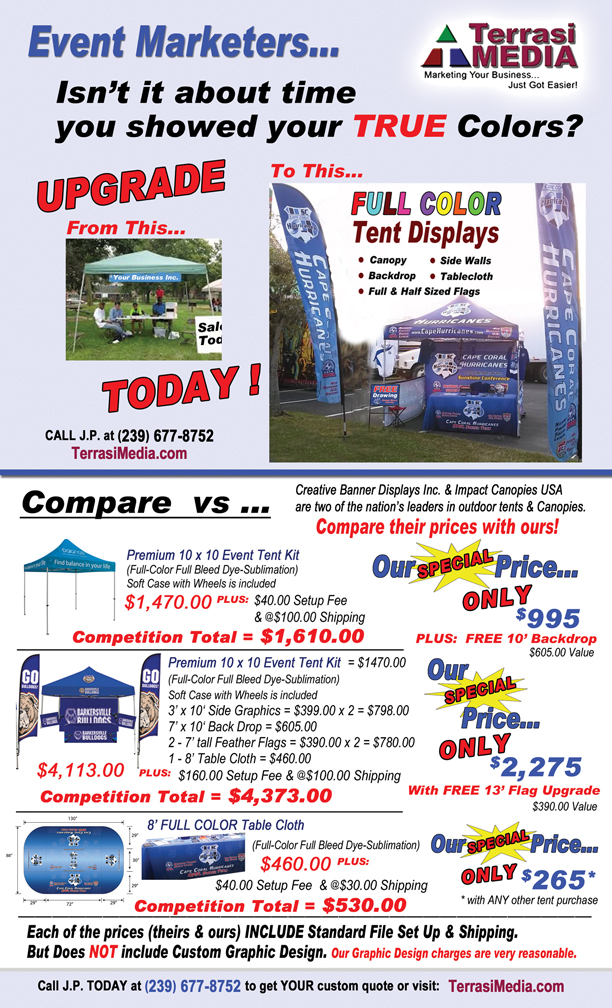 Please note:
All tent and related projects are created with very high quality materials
and are being offered at extremely discounted pricing, but please note
that we will need three (3) FULL business weeks for product delivery
once the files have been designed and approved.
These special prices are only being offered for a limited time!
CLICK HERE to view and download the Special Presentation Proposal.
This PDF highlights Retail Pricing of the products, your SPECIAL SAVINGS
and our DISCOUNTED pricing on several packages!
Email us with any questions or for a Custom Quote!